Resources
Free Reports: Operational Excellence Best Practices
We are pleased to offer the following free educational material available to companies, manufacturers and government organizations, to help improve their operational efficiency and sustainability. Please contact us for more details.
1) Industrial Internet of Things (IIoT) for Automotive Paint Shop Operations"
Abstract: Currently Industrial Internet of Things (IIoT) is a hot topic of discussion among futuristic thinking technology developers, smart industrial companies and academic researchers. During this presentation we will discuss the meaning of IIoT, its potential applications particularly in the context of automotive paint shop operations. We will also discuss the business and operational benefits that manufactures can gain with an IIoT approach in their operations. The presentation will also include a short, interactive discussion on how manufacturers can incorporate IIoT to continuously improve the skills of production operators and empower them to become better craftsmen aligned with the two Japanese manufacturing philosophies: Hitozukuri and Monozukuri.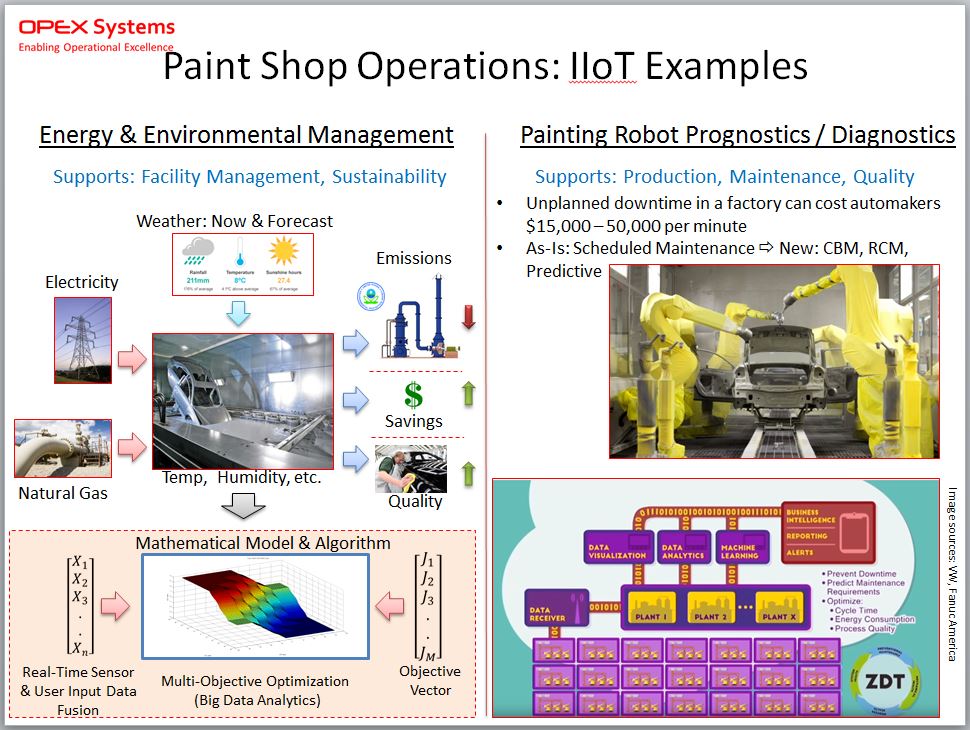 Click to Open and Download PowerPoint Presentation
2) Sustainability: "Energy, Water & Environmental Sustainability Review - Automotive Manufacturing Best Practices"
Abstract: This report describes the best practices employed by several leading automotive manufacturers to improve energy, water and environmental sustainability. It highlights techniques and standards they have employed to accomplish significant business and societal benefits. This report can help manufacturers and other organizations to implement and improve their own operational sustainability initiatives.
We offer a summary report of sustainability best practices implemented in the automotive manufacturing sector; particularly by the leading three automakers from North America, Europe and Asia.
The report will help sustainability, operations and facilities professionals interested in ideas and strategies to save energy, water, and reduce CO2 and VOC emissions in their operations.
The report was produced based on the published annual sustainability reports by each OEM. The report also includes a summary of the impressive results achieved by these OEMs. While this edition of the report is specific to the automotive sector, manufacturers from other sectors will also likely benefit from the best-practices described.
Please contact us for a copy.
We offer a free copy of this report to industrial, commercial and government sector process and facility management professionals, who are directly implementing sustainability programs in their organizations.
3) Operational Excellence White Paper: "How to Implement a Pilot Kanban System"
Abstract: This white paper provides new Lean Champions a strategy and techniques for implementing a pilot Kanban system quickly. It also provides educational background and case-studies of successful Lean implementations. The concepts and techniques presented in the white paper can be applied in manufacturing and other industries such as utilities, hospital management, credit card processing, government organizations, etc., and business-transaction functions such as customer service, sales and marketing, etc.
---